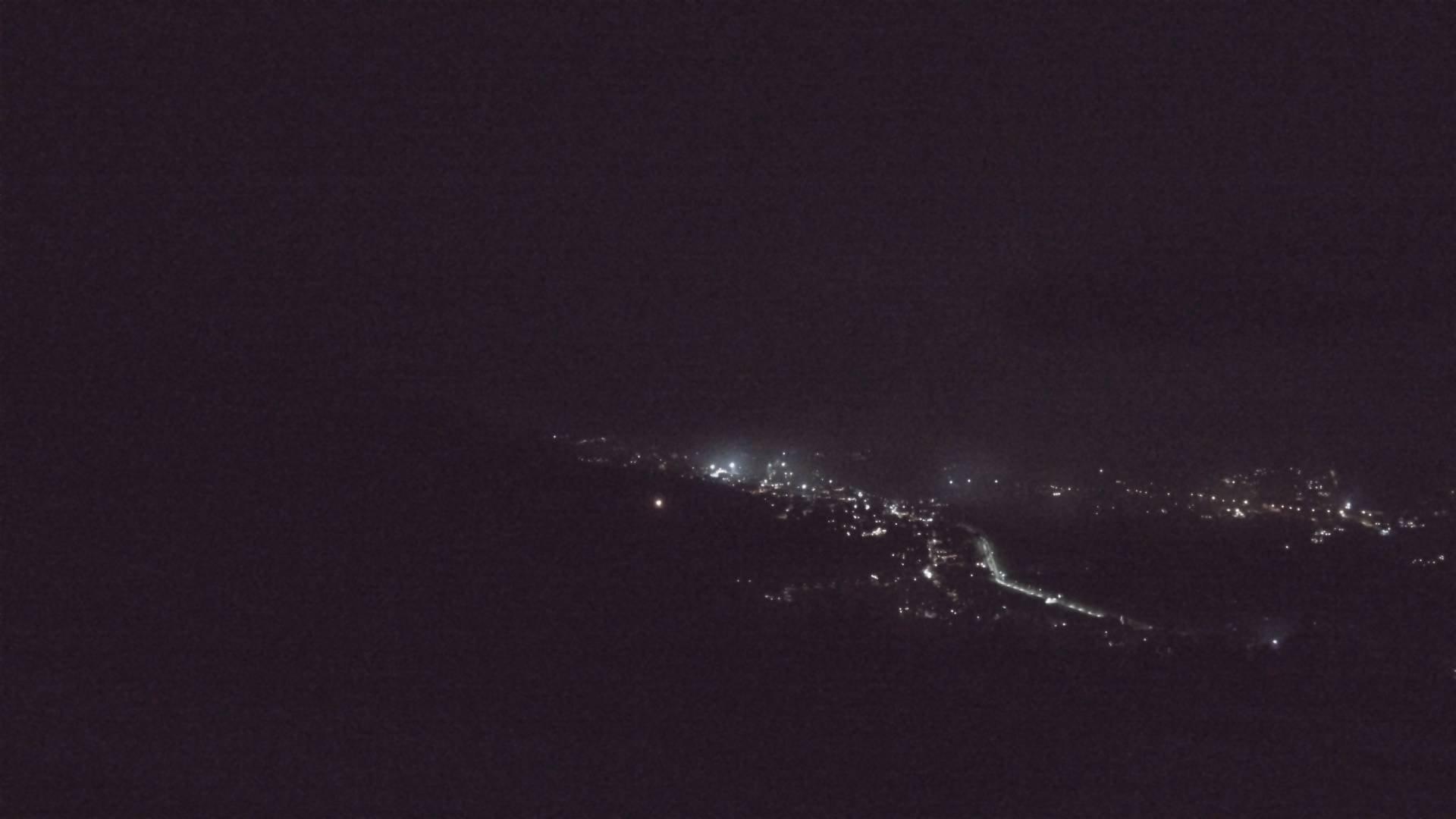 Livigno has many faces. Livigno as ski resort - very important in Europe , the snow here never fails, The Livigno of the mountain in the summer - ... a beautiful green and endless walks - the shopping in modern shops where you find everything you want at duty free prices - The avant-garde
Hotel
, and
Holiday Flats
and much more.
Click the photo for all the webcams of Livigno.
Go to the data of the Lombardo Weather Center Livigno - Palipert Station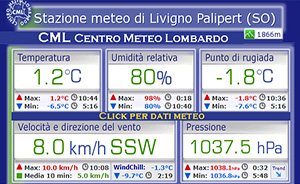 The Lombard Weather Center station is located in Livigno - Palipert, the coldest area of the country
All data is collected from a "physical" station not from satellite, so you can find many differences between the widget data of the various weather sites, both Italian and Swiss,
in particular, we publish above, the widget of a Swiss weather forecast site
which shows the evolution of the atmospheric weather of six days for the town of Livigno, including the temperature detected by satellite because we think, only for personal opinion, that due to the conformation of the territory and the particular position of the Livigno Valley, nestled between Switzerland and Italy, outside the Italian watershed, Swiss forecasts may come closer to accuracy, while for the more specific data, the CLM weather station in the country gives us more guarantees. We recommend the Swiss Weather App which you can download for free from
IOS
o
Android
, which, despite not having the data of Livigno, provides those of many Swiss localities that are located around the country, eg: Bernina Pass - Zernez - Passo del Forno in order to be able to deduce a great deal about the weather conditions of the Swiss Grisons which practically set Livigno.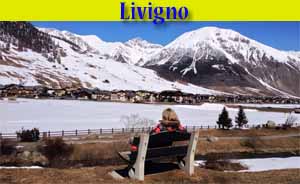 Livigno is very beautiful, the town is surrounded from nature and wherever you look you try always new emotion. Tourism development has certainly changed it over the years, but its main features have remained intact and you can see them immediately upon your arrival coming down from
Passo d'Eira.
From there you can see
houses and
churches
stretch harmonically for about nine km along the route main and from afar, especially at night, both in summer but especially in winter, they remind you of the crib you always dreamed of setting up as a child.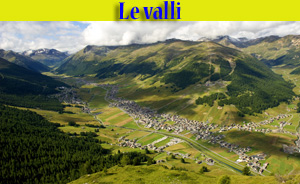 The
Municipality of Livigno
it extends over a vast territory of approximately 211 square kilometers and the valley in which the town extends(
Livigno Valley
) it is just one of many that are part of it.
The other most important are:
Val Federia
, Valle del Gallo, Val Viera, Valle della Forcola,
Valle delle Mine
, Val Tort,
Valle del Monte
,
Val Alpisella
, Val Trela, Valle del Vago,
Val Saliente
, Valle di Campo, Val Nera, Val Cantone ed altre minori.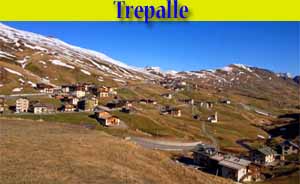 Mythical Trepalle, the highest parish in all of Europe, mythical for where it is located, for its people and because it has always fascinated the traveler, even a certain Mr. Guareschi, they say ... he passed by and took some ideas for some of his famous stories. (Don Camillo)
Those who see Trepalle, not those who pass hastily by car, still see a country "out of this world" and wonder how the trepallini* managed to live there in the past. * inhabitants of Trepalle
Condividi questa pagina se per te interessante
Seguici sui social
---
Qui sotto altre pagine che ti potrebbero interessare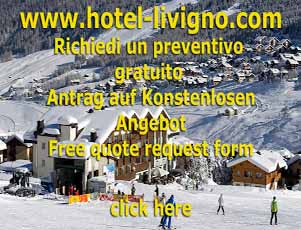 Richiedi un preventivo senza impegno per la tua vacanza a Livigno in Hotel o Appartamento, prova il modulo, riceverai le migliori proposte direttamente dalle strutture turistiche. Usando il modulo puoi contattare direttamente e senza intermediari gli hotel e le altre strutture ricettive di Livigno.
contact directly the apartments or hotels and save money - no intermediary
Kontaktieren Sie direkt die Apartments oder Hotels - um Geld zu sparen - Keine Vermittler